Stories from the Field
FXB is pleased to share true stories of some of our program participants.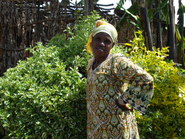 Mukahirwa, Rwanda
When FXB came to my doorstep, I was literally wasting away. I was so ill that I could not move, let alone work and provide for my family.  I had lost a lot of weight and kept on developing more ailments.  The situation was so bad that I had resolved to wait for death.
In this desperate situation, FXB's support was a godsend. Their invaluable assistance takes many forms but the most important one for me was the medical support.  An FXB nurse came to my house at least once a week to discuss my health issues, inform me about HIV and counsel me. She encouraged me to take an HIV test and even accompanied me as I was still very weak. When my test came back positive, I was immediately placed on antiretroviral drugs.
It was difficult at first to accept my status but FXB's staff taught me that I could keep the disease at bay if I paid special attention to my food intake and hygiene, and took my drugs dutifully.  As a result, I gained weight and increased my CD4 count. I had reclaimed my life!
FXB also connected me to other members in the community dealing with similar health problems. The support provided by my group has helped me understand that I am not alone and I can move forward with my life. We have taken the lessons we have learned together and are sharing them with other members of the community, teaching them how to live an HIV-free life. I'm looking forward to a brighter future for myself and Rwanda.
Knowing how to remain healthy, receiving treatment and being supported by friends has made me a better mother. I have the physical and mental strength to care and protect my children. I work hard rearing pigs and cultivating my garden. I am improving our future by saving and investing in additional livestock.   What rejoices me most is to see my children gradually becoming worry-free, laughing and playing. I love that my children are children again!
****
For over 20 years, FXB has been supporting people living in extreme poverty like Mukahirwa. In Rwanda, USAID's funding support has allowed FXB's unique village program to help 10,000 people reclaim their lives by providing access to health care, education, nutrition, and micro-enterprise training.
Deepak, India
Deepak's parents died in an accident when he was only 12 years old. Distressed and alone, Deepak jumped on a train to city of Jaipur. Like many other orphans, he was homeless and lived at the railway station. To survive, he scrounged through trash, and after time he drifted into drug use and hopelessness. In November 2007, an FXB volunteer found Deepak on the tracks and brought him to FXB's local transit home for street children, where he receives regular meals, a clean room, and medical care. Now confident about his life, Deepak will soon start vocational training to become an auto mechanic.
Claire, Rwanda
Claire's parents died of AIDS when she was 17 years old, leaving her to care for her three younger siblings and two cousins. HIV positive herself, Claire was forced to rent their house for income and move her family into the backyard shed. In 2005, FXB enrolled Claire's family in an FXB-Village, providing them with food, educational support, health care, and grants to operate a small business. Today, Claire is a student at the Kigali Institute for Science and Technology, where she studies dietary therapy for people living with HIV. FXB covers the costs of Claire's tuition and board, and continues to help her support her family.
Granny Ban, Thailand
Granny Ban is a 72 year-old woman who lost both her husband and daughter to AIDS. After her daughter's death, she took in her two young granddaughters, Supattra and Sukanya, and they all lived in a tiny, rundown house. Granny Ban struggled to meet their needs, and the young girls faced severe discrimination and stigma at school.With help from the FXB-Village program, the family's situation looks much brighter. Granny Ban now has a beautiful vegetable garden, a small fish pond, and a couple of pigs that provide more than enough income to support her and the girls. Supattra and Sukanya are happy to attend school and help their grandmother in the garden. They enjoy new friends and they are proud of themselves and their grandmother.
*Names and/or photos have been changed to protect privacy.