Stories from the Field
FXB is pleased to share true stories of some of our program participants.
Qu Mu, China – 07.2013
Labi Me is a single mother living in Tai Ji Nai village. When registered in FXB-Village of Bu Tuo IV,  the staff discovered that this family was composed of one 13-year old boy orphan named Qu Mu and his grandparents of over 70 years old living in an old Yi ethnic style house with mud wall and wood roof. Through constant home visit, the staff learned that the mother was over 40 years old doing migrant work outside. And she was not willing to come back due to dificult family conditions after the father's death.
Qu Mu and his grandparents received nutritional support, IGA and other support from the FXB-Village program. The staff could witness that the quality of daily living and production in this family both improved gradualy. However, the staff kept working on this family, continously developing the potential as possible. Through constant home visit and communication, the FXB staff learnt that after graduation from primary school 2 year ago, the boy didn't go on education in middle school due to the old grandparents' incapability and health problem. But Qu Mu was so smart, he could still write Chinese characters he learnt from school and even do carpentry he likes.
According to this new finding, the staff gave countless encouragement to this young boy to make full use of his wisdom to help develop his family life while looking for better opportunities of carpentry for him. Based on his good capacity of mandarin, the staff had smooth communication with him. It took him to visit adult carpentry several times in local community, showed him the real work of carpentry in daily living for openning his eyesight and improving his carpentry skils. During the visit, he told FXB that he wanted to make a closet in his house instead of buying a new one. A few days later, during home visit, FXB found that this boy seriously completed a home-use cloth closet within 5 days. Although the work was not fine enough, the practical use of the closet standing in the house is like a star sparkling in the house with a lot of faith for future.
Besides, IGA in this family developed very well. In year 2, their pigs have generated profits. As the staff once learned that Qu Mu had a dream of openning a grocery store while supporting family, FXB encouraged him spending part of his savings to start a mini-store from beginning and provided needed guidance. In summer, the store started with simple commodities. Now it has expanded into selling candies, drinks, washing materials, etc.
When learning about the good progress in family during past two years, Qu Mu's mother who did migrant works outside didn't believe it. In autumn, she came back home in person with doubts once. When she witnessed all the real progress her son made for this family, she was so touched and finally chose to stay home and to join her son to support the family development. At end of 2012, right after Qu Mu's 15 years old birthday, his mother contributed with her own savings from migrant work to Qu Mu's profits from his store and helped him completed the engagement with a young girl (Yi people's tradition, engagement often occurs when they are young as teenagers, not real marriage).
Nowadays, the good development in this family greatly changed the quality of their life, even better than some of other families in the same village. We are sure that theire future will be brighter and brighter.
Jeanne, Rwanda – 07.2013
My name is Jeanne. I am a widow and I live with my eight children in Rwanda. Before the intervention of FXB, my family lived in an extreme poverty. After the death of my husband, our situation got worse. Not only had I used all our incomes to pay his medical expenses, but I myself was unable to work. I was alone and weak due to HIV. The disease took all my energy and with no food I was not able to find the strength to get up. How can I feed my children and send them to school in this situation?
Everything changed when FXB entered in our lives and provided us medical and nutritional assistance. In addition, the nurse advices helped me to get out of my depression and teach me how to see life with more optimism. This support gave me the necessary mental and physical strength to take control of my life.
With the GIA that the organization provides us, I started selling food. Today, my capital reach 100'000Frw (182USD) and I manage to save 250'000Frw (454.5USD). I also work in a cooperative of 23 individuals who cultivate fungus. These activities give me enough money to pay my children's school fees, my medical expenses and the food expenses of my family.
All my children are now at school: 3 are studying in primary school and 5 are at the secondary level. They are very hard-working, eager to learn and are promised to a nice future.
In sum, FXB helped us to rebuilt our lives. I am now a mother who can take care of his children and my children no longer live their days worrying about their survival.
I never thought it possible.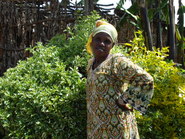 Mukahirwa, Rwanda
When FXB came to my doorstep, I was literally wasting away. I was so ill that I could not move, let alone work and provide for my family.  I had lost a lot of weight and kept on developing more ailments.  The situation was so bad that I had resolved to wait for death.
In this desperate situation, FXB's support was a godsend. Their invaluable assistance takes many forms but the most important one for me was the medical support.  An FXB nurse came to my house at least once a week to discuss my health issues, inform me about HIV and counsel me. She encouraged me to take an HIV test and even accompanied me as I was still very weak. When my test came back positive, I was immediately placed on antiretroviral drugs.
It was difficult at first to accept my status but FXB's staff taught me that I could keep the disease at bay if I paid special attention to my food intake and hygiene, and took my drugs dutifully.  As a result, I gained weight and increased my CD4 count. I had reclaimed my life!
FXB also connected me to other members in the community dealing with similar health problems. The support provided by my group has helped me understand that I am not alone and I can move forward with my life. We have taken the lessons we have learned together and are sharing them with other members of the community, teaching them how to live an HIV-free life. I'm looking forward to a brighter future for myself and Rwanda.
Knowing how to remain healthy, receiving treatment and being supported by friends has made me a better mother. I have the physical and mental strength to care and protect my children. I work hard rearing pigs and cultivating my garden. I am improving our future by saving and investing in additional livestock.   What rejoices me most is to see my children gradually becoming worry-free, laughing and playing. I love that my children are children again!
****
For over 20 years, FXB has been supporting people living in extreme poverty like Mukahirwa. In Rwanda, USAID's funding support has allowed FXB's unique village program to help 10,000 people reclaim their lives by providing access to health care, education, nutrition, and micro-enterprise training.
Deepak, India
Deepak's parents died in an accident when he was only 12 years old. Distressed and alone, Deepak jumped on a train to city of Jaipur. Like many other orphans, he was homeless and lived at the railway station. To survive, he scrounged through trash, and after time he drifted into drug use and hopelessness. In November 2007, an FXB volunteer found Deepak on the tracks and brought him to FXB's local transit home for street children, where he receives regular meals, a clean room, and medical care. Now confident about his life, Deepak will soon start vocational training to become an auto mechanic.
Claire, Rwanda
Claire's parents died of AIDS when she was 17 years old, leaving her to care for her three younger siblings and two cousins. HIV positive herself, Claire was forced to rent their house for income and move her family into the backyard shed. In 2005, FXB enrolled Claire's family in an FXB-Village, providing them with food, educational support, health care, and grants to operate a small business. Today, Claire is a student at the Kigali Institute for Science and Technology, where she studies dietary therapy for people living with HIV. FXB covers the costs of Claire's tuition and board, and continues to help her support her family.
Granny Ban, Thailand
Granny Ban is a 72 year-old woman who lost both her husband and daughter to AIDS. After her daughter's death, she took in her two young granddaughters, Supattra and Sukanya, and they all lived in a tiny, rundown house. Granny Ban struggled to meet their needs, and the young girls faced severe discrimination and stigma at school.With help from the FXB-Village program, the family's situation looks much brighter. Granny Ban now has a beautiful vegetable garden, a small fish pond, and a couple of pigs that provide more than enough income to support her and the girls. Supattra and Sukanya are happy to attend school and help their grandmother in the garden. They enjoy new friends and they are proud of themselves and their grandmother.
*Names and/or photos have been changed to protect privacy.